In an effort to get healthy, bright skin, we pamper it with the best skincare products. But occasionally, all your skin needs is to be nurtured with natural substances. All skin types, whether oily, dry, normal, or sensitive, can use these components because they are chemical-free. Put your faith in nature's healing and skin-enhancing abilities. When you don't have time for intrusive surgeries and treatments, it is imperative that you as a woman have a few natural face beauty tips and tricks up your sleeve to enhance your beauty.
We have developed 12 of these all-natural face beauty recommendations that will enhance the desired shine without causing skin irritation. Read on to learn more about our tried-and-true advice that is suitable for all skin types.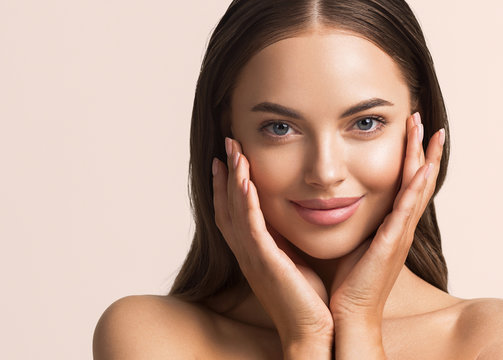 1. Cooled tea bags to reduce eye puffiness.
2. Gram flour for tanning.                                                                                                                      3. tomatoes for reducing oil production.
4. Lemon and cucumber for acne.
5. Apple for pore-opening.
6. Papaya can be used to remove dead skin.
7. Yoga asanas for glowing skin.
8.  Aloe vera can soothe inflamed skin.
9. Green tea as an astringent.
10. Tea tree oil to treat acne.
11. Meditate to improve general well-being.
12. Chamomile tea can revive dull skin.
1. Cooled tea bags to reduce eye puffiness
Regular use of green tea and discarding of empty tea bags? The next time around, you might want to save it. Black or green tea bags that have been refrigerated do wonders for your skin in addition to helping your body eliminate pollutants. By immediately reducing puffiness around the eyes and making them appear brighter and more awake, you may improve your appearance with this natural face-care trick. Lay back for five to fifteen minutes as the tea bags do their job after applying the bags to your eyelids.
2. Gram flour for tanning

To remove dead skin cells, tan, and sunburns, gram flour, also known as besan, is used as a moderate, all-natural exfoliant. Here is the natural face beauty tip you need to know if you desire clear, smooth, and naturally glowing skin. Combine equal parts of gram flour and curd in a bowl to create a paste. This paste should be applied evenly to your face and neck. After it has dried for 30 minutes, rinse it off with water. Your skin tone will be made lighter and more even as dead skin cells and ingrained grime are gently lifted away.
3. Tomatoes to reduce oil production

In a country like India where the climate is humid in most areas, excessive oil on the face is not just a problem for people with oily skin. Lycopene-rich tomatoes have anti-oxidants as well as excellent cooling and astringent qualities. It removes any extra oil that you may be having trouble with and assists in balancing the skin's natural oils. This organic face-beauty trick is also employed to lessen aging symptoms like wrinkles and fine lines. One tomato's pulp should be applied equally on your face. After 15 minutes of drying time, wash it off with warm water to reveal naturally radiant skin.
4. Lemon and cucumber for acne

Blackheads and blemishes are a common problem since they give your skin a lifeless, worn-out appearance. Use a mixture of cucumber and lemon juice to naturally remove blemishes and blackheads and achieve a brighter and more uniform skin tone. Apply equal parts of cucumber and lemon juice to your face before getting in the bath. Ten minutes should pass before washing it off. Your skin tone will glow and imperfections will be lighter if you utilize this natural face beauty tip frequently. The best aspect is that it works well with all skin types!
5. Apple for pore-opening
Your skin will appear older, greasy, and more problematic as a result of enlarged pores that draw in a lot of debris. Applying thin apple slices on the skin for 15 minutes is a simple and effective natural face beauty technique. A paste made of apple peel, vinegar, honey, Multani mitti, and rose water is another option. 30 minutes after letting it dry on your skin, wash it off. Apple tightens your skin and gives it a healthy, glowing appearance by soaking up excess oil from your face and sealing pores.
5. Papaya can be used to remove dead skin
Papaya, which contains the natural enzyme papain, naturally exfoliates the skin, leaving it soft and smooth. If you can find an unripe papaya, you can use it to gently exfoliate away dead skin cells and other impurities
because unripe papayas have higher levels of papain. Papaya can also be used by people with sensitive skin because it rarely causes an allergic reaction. To make a smooth combination, scoop out 1/4 cup of papaya flesh and combine it with 1 tablespoon of fresh pineapple. Apply evenly, then let sit for five to fifteen minutes before rinsing.
7. Yoga asanas for glowing skin
Yoga is a fantastic, natural technique to achieve clear, glowing skin. Yoga breathing techniques help to relax your muscles, reduce stress, and calm your mind. This significantly aids in cleaning up outbreaks. Additionally, the numerous yoga asanas serve to enhance blood and oxygen circulation to your face, which once more contributes to the creation of a radiant complexion.
8.  Aloe vera can soothe inflamed skin
Aloe vera plants along the path to a healthy, radiant body. Fresh aloe vera gel, which has an abundance of relaxing, soothing, and healing characteristics, can treat practically any skin or hair issue. Using aloe vera gel is a natural face beauty tip that you must try, since it may nourish and soothe inflamed skin. Aloe vera gel applied twice daily to any skin issue, including minor cuts, acne, eczema, and other skin conditions, helps hasten the healing process.
9. Green tea as an astringent
The value of toner is obvious if you adhere to the CTM regimen (Cleansing-Toning-Moisturising) every day. When administered topically, white and green tea have brightening, anti-inflammatory, and moisturizing effects. How could one product offer so many advantages that it wouldn't be a natural face beauty tip? You must complete the following. Allow the tea to brew for about five minutes, then let it cool or come to room temperature. After thoroughly cleaning your skin, transfer to a spray bottle and mist as needed, or place a little amount onto a cotton pad and pat it on your face.
10. Tea tree oil to treat acne
Tea tree oil is used to treat mild to moderate acne and is well known for its anti-inflammatory and anti-microbial effects. Although this is a fantastic natural face beauty tip, keep in mind that tea tree essential oil should never be used directly on the skin without first diluting it. Apply your serum or moisturizer directly to the face after adding 1-2 drops. For best results, combine it with a carrier oil and use it at night before bed.
11. Meditate to improve general well-being
When your body and mind are under constant stress, neither natural components nor cosmetic products can always be helpful. In actuality, stress and anxiety can exacerbate some skin conditions. Therefore, in addition to getting a good night's sleep, moderate exercise and meditation also aid in managing and relieving stress. Don't forget to treat your mind to some meditation when you follow a proper skincare routine and these natural face beauty recommendations.
12. Chamomile tea can revive dull skin
It's time to use chamomile tea for its wonderful skin benefits if you find that your skin is particularly dull and tired-looking despite having a good skincare routine. Puffiness, dark circles, acne, and irritated skin are all reduced by this tea's anti-inflammatory, antibacterial, and regenerative characteristics. Extremely drained skin is refreshed, and a lovely shine is produced. Brew some tea, let it cool fully, then pour it into an ice tray to utilize as part of your beauty regimen. Each time you feel like your skin could use a little lifting, use this ice cube that you've frozen for a few hours on your face.